Fabrics for Infinity & Beyond
Packing for Space Travel with Functionality, Comfort & Sustainability in Mind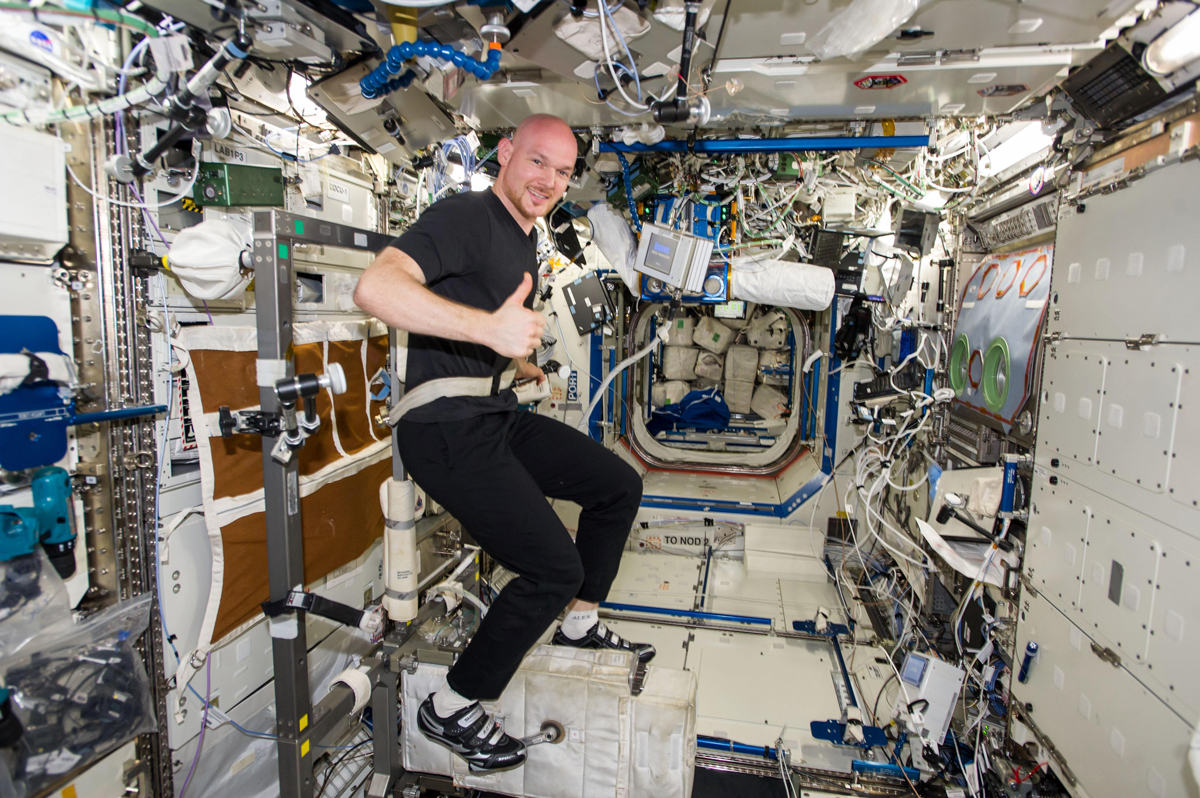 Exercising on the Cycle Ergometer during a Spacetex Experiment.
Neil Armstrong made history on July 20, 1969, by becoming the first man to walk on the moon. Now, on the eve of the 50th anniversary of that historic mission, interest in sending humans into space is making headlines again. However, this time around exploring the "final frontier" is less about the astronaut piloting the craft, and more about the crew. Specifically, today's research is focused on advancing fabrications designed for the every day needs of individuals traveling throughout the solar system.
Materials experts are now actively involved in developing clothing for the modern space traveler. Everything from technical T-shirts for daily workouts (without exercise, muscle and bone degrade in space atmosphere) to biodegradable underwear (space craft is not equipped to do laundry) is under investigation. "There is clear opportunity for better wellbeing if individuals use engineered garments. And this means you have to ask the textile guys," says Hohenstein's Dr. Jan Beringer. "This is no longer solely about rockets and propulsion etc. What we're talking about is space lifestyle."
Central to Beringer's current study is how functional fabrics deal with heat loss and sweating worn in space. (In microgravity the body overheats much faster). Beringer, Spacetex2 project manager, is assessing three shirts, each with different cooling performance levels worn this past summer by Alexander Gerst, a German astronaut for the European Space Agency, who arrived at the International Space Station in June. (The T-shirts are equipped with biometric sensors aiding in data recovery.)
Key to the research is "the uncoupling of the convective heat loss from the evaporative heat loss. You can't do that on earth, but you can in this microgravity atmosphere; the convection is switched off. And this helps us understand the evaporative effective yarns," explains Beringer.
The T-shirts, made with varying amounts of Coolcore yarn, were worn for two hours of daily exercise. "We hope to see effectiveness of evaporative cooling from low levels, to highest level," says Beringer. Lessons learned about evaporative heat loss in space would be useful applied to garments worn on earth for cooling as more people are living in extreme conditions due to climate change, according to Beringer. "Space is the most extreme environment — it is life-threatening — open the window of the Space Station and you die."  
In space, a T-shirt has a lifespan of about two weeks, socks and underwear one week — due mostly to odor, and the impact of that, combined with general discomfort. (Skin is more sensitive in space.) So there is a need to find other materials that absorb odor most effectively.
"After six years of involvement with SpaceTex, from my side there has been huge progress," states Beringer. A long-term goal, with Hohenstein as partner in what is known as IVA, InterVehicular Activity (life inside the craft) — is comfort management related to textiles. "That has been a missing piece of the puzzle, a very important piece in my view," says Beringer.
"The uncoupling of the convective heat loss from the evaporative heat loss. You can't do that on earth, but you can in this microgravity atmosphere; the convection is switched off. And this helps us understand the evaporative effective yarns."
Solving Performance & Physiological Issues
That concern, the physiology of clothing, is right up Dr. Karl Aspelund's alley. The University of Rhode Island professor is investigating the design, cultural needs and constraints of clothing for long-duration space travel, focused on what individuals will wear inside the craft, not the astronaut's space suit. While optimistic about the progress of his study, Aspelund, stresses that the reality of space travel is not that far in the future. "The Mars mission is slated for 2030 and at that time a four person Orion craft will take off for a 900-day mission. And just like planning for a trip here on earth, travelers need to decide what to pack," explains Aspelund, a member of the 100 Year Starship research team.  
What clothing space travelers put in a suitcase sounds simple but in fact problem solving is intense and costly. Aspelund must consider functional properties, fiber content, hygiene issues and recyclability, including repair and reuse. Radioactivity is the biggest concern. Mars is toxic, so dust management is also problematic; as on the Moon, dust is very abrasive, and will stick to fabric. Notes Aspelund, "It's not as easy as one would think because of the multi-functionality of what's needed and the issue around sustainability." For instance, without the ability to do laundry, 99.9 percent recyclability is key. A closed loop eco system is critical, Aspelund asserts, because it's not enough for clothes to be compostable: where does the next shirt come from?
That's the crux of Aspelund's suitcase project. He and his team are getting a sense of the quantitative need per item. Along with thinking about thermal properties, repairability and durability, there's also the human factor. Aspelund explains: Comfort, personal identity, aesthetics, these all play a role. Psychology is as much a factor as textile performance. "Ask yourself on a six month trip, what's important — the function versus the comfort and personal preference?"
New Technologies for Product Development
Those factors lay a foundation for what's next; the actual design and creation of garments space travelers will wear. Clare King's deep knowledge of material development and her company's project work involving the Navy and Safety industry has NASA's ear. "Its just discussions, based on our experience developing textile electrode circuitry that is part of the fabric structure," comments King, president of Pawtucket, RI-based Propel, LLC. She is keen on how to make electronic-enabled yarn wirelessly robust, innovation around functionality that disappears into the garment and protective clothing for harsh environments.
King identifies stitchless, seamless technologies as important going forward. The "Steam Suit" serves as a good example of performance attributes with relevance to space applications. The new Damage Control (Steam) Suit for submarine use features Propel's stitchless seam engineering and advanced textile technologies resulting in better protection for the user from steam and associated high heat during damage control operations. The project was funded by the Office of Naval Research, US Navy, and designed and prototyped by Propel.
Highly significant is the wearability of the new Steam Suit. "We look at the human side," says King. Indeed, Propel's Stitchless Seam Technology is described as a "human-centered design process" resulting in clothing and personal protective equipment that are less bulky and lighter in weight, with improved user comfort and better packing and shipping efficiencies.
With an eye on what's next — both in terms of in her own sphere of textile expertise as well as space travel wear, King states, "The mash up of textile and technology, that's the future."