Born on a Hike
A Swiss Mix of Outdoor Spirit and Scientific Rigor Spurs Innovative Chemistry.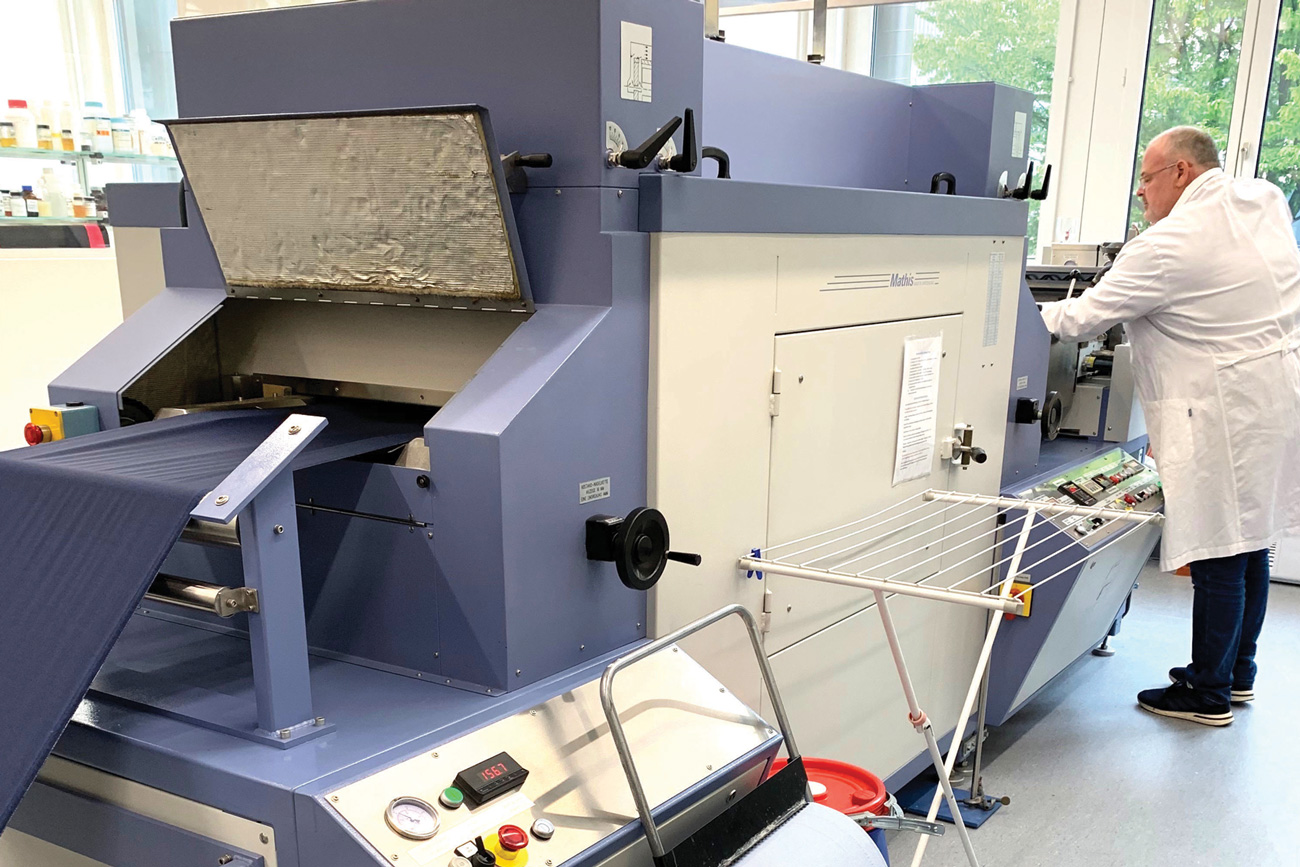 HeiQ does not wait around to see what's happening, it makes things happen. Agile, entrepreneurial in nature and asset light by design, HeiQ strives to stay ahead of the market with a modern business model founded on a mission to innovate and differentiate. The Swiss supplier looks to accelerate product development via its network driven organization with a management style that brings energy and intensity to an aging textile industry.
"We have a Swiss mindset in that we are the only tool you need to make something happen," says Carlo Centonze, HeiQ co-founder and CEO. "We want to be a tool to disrupt and we really want to innovate to make textiles better for everyone."  
To that end, HeiQ is structured to take advantage of a boundless academic research network, and an internal team of specialists with a high-level chemical engineering and marketing competency that puts that research into action.
Founded in 2005, the young firm has quickly established a global footprint that now includes HeiQ Australia, where company co-founder Murray Height is based; HeiQ Hong Kong, HeiQ Chemtex USA, in North Carolina; and two new subsidiaries added this Spring, HeiQ China and HeiQ Taiwan, to serve customers in the region more closely and provide rapid support.
HeiQ retains local identity with headquarters in Schlieren, Switzerland, close to Zurich. On a recent visit the place was a beehive of activity with staff preparing for the upcoming Performance Days and TechTextil trade events, in addition to various meetings regarding a new project, HeiQ XReflex, and other marketing-related matters, with Centonze focused intently on each task at hand, yet seemingly in constant motion.  
Marketing is a core tenet of HeiQ, unusual for a chemical company. "We are very proactive in our approach with brand partners," comments Hoi Kwan Lam, HeiQ's chief marketing officer, whose background includes work at Procter & Gamble. "For really new technology we need to be proactive; we get involved in the process as early as possible."
Also unique is the HeiQ Fabric Lab offering brands fabric development services, from supplier selection to tackling technical challenges as well as material testing and finalizing fabric agreements. Consistent with HeiQ's DNA, the service is a means to accelerate innovation.
"Ours is a new way to create a company," states Centonze. "If you can change the way you think about textiles, and put in a modern way to attract a new audience you will achieve." He adds, "We need to reflect what the old industry is doing globally but bring the science back to textiles. We need talk to the mills and be a knowledge bank for brands."
HeiQ's contemporary approach is proving successful. The company is experiencing upwards of 30 percent growth, according to Centonze. In the last two years there have been 25 new hires, bringing the number of employees to 80 people located worldwide and serving upwards of 200 brands.
Creating strong partners is key. Burton, for example, has been working with HeiQ on various solutions since 2014. "HeiQ is a very dynamic innovation-based company and they are willing to work with us to provide custom unique solutions to enhance the performance of our products," explains Ashish Ahlawat, senior materials manager, Burton Global. "They are easy to access, and their team is open to ideas. Unlike other chemical companies, they are not very hierarchical which allows more creative/free flow of ideas which in turn makes the whole experience of dealing with them much more enjoyable."  
Speedo is another brand partner of note. Earlier this year, Speedo launched its new elite swimwear – Fastskin LZR Pure Intent and Fastskin Pure Valor suits –powered by HeiQ technology that modifies the surface of the fabric at a microscopic level to enhance drag reduction. The new swimwear resulted from a close collaboration between Speedo and HeiQ's research hubs in Australia and Switzerland. ‍
Systematic Science-based Solutions

"RDM" stands for Research, Development, Marketing, and is the engine that drives HeiQ's innovation model allowing the company to get out of the gate fast and not miss a moment in today's fast-paced marketplace. The system is arranged to move from the "R1" stage of collecting and assessing ideas within the scientific world then seamlessly onward on to feasibility and proof of concept stages. The Research phase is designed for fast turnaround, explains Walter Nassl, chief technology officer. "The mindset within research is, "be my guest to fail, but fail fast and cheap. It needs to be "go, no go" decision making."  
As example, the "Yogurt Test." Developed in house by Rainer Lehmann, director of microbiology, the Yogurt Test is a simple, yet effective quantitative overnight test method that affords quick, accurate conclusions about whether bacteria metabolized, or not. "Most of the time it takes three days to reach a conclusion, but now we have a a simple pass/fail test," Lehmann explains.
The Development phase follows Research. "You can't do disruptive things if R&D is lumped together," states Centonze. While speed is important, nowadays the work needed to abide by regulations and brand certifications has intensified. "There is a lot more work at this stage compared to six or seven years ago, and it is always changing," says Nassl. Marketing is the final stage, consisting of a pre-launch, product launch and post launch review.  
Nassl estimates that 48 projects are currently running from concept to launching -- the majority of which are in the Development phase, and some churning in the background.
Ahlawat hints that Burton has some "game changing" projects in pipeline with HeiQ, but says it's too early to discuss details. However, he notes, "Burton worked with HeiQ to custom develop the recipe for our PFC free DWR which we will be featured in FW19/20 youth outerwear and for FW20/21, we will solely be using HeiQ EcoDry our nominated PFC free DWR for all outerwear. Also, we will be using HeiQ Fresh FFL as our sole non-biocide based anti-odor solution starting from FW20/21."
Also coming to market from HeiQ is XReflex, a new range of fabrics and insulation featuring breathable heat retention. The innovative radiant barrier technology results in savings of up 50 percent in insulation material to create thinner and lighter garments, along with a strong sustainability story.

The Spirit of the Hike
HeiQ's "born on a hike" story is an oft-told tale about two young scientists, their smelly t-shirts, and the idea for a new kind of company. The young men were Carlo Centonze and Murray Height. When on a hike in the Swiss Alps their girlfriends encouraged the guys to walk ahead because of the smelly odor wafting off their sweaty t-shirts. "It was terrible," says Centonze, recalling the stink. "But Murray and I, we're both scientists, and asked ourselves, 'how do we solve this issue?'"  
The answer is HeiQ. The company name derives from riffs on "high-tech," "hi-quality," "highly intelligent material science," and "Height," Murray's last name. These qualities laid the foundation for what has become a multinational chemical corporation creating custom solutions to advance performance properties in outdoor as well as other product categories.
Centonze describes this moment in HeiQ history as an "intense time" to push innovation and work to strengthen the structure and services HeiQ delivers to the market. "We should see this pay off down the road in the next 12-18 months," he says. And in true HeiQ style, that success is likely to happen fast.