Today's Active Aesthetic
Multi-Use Designs for On the Go, On the Road or On the Couch Days.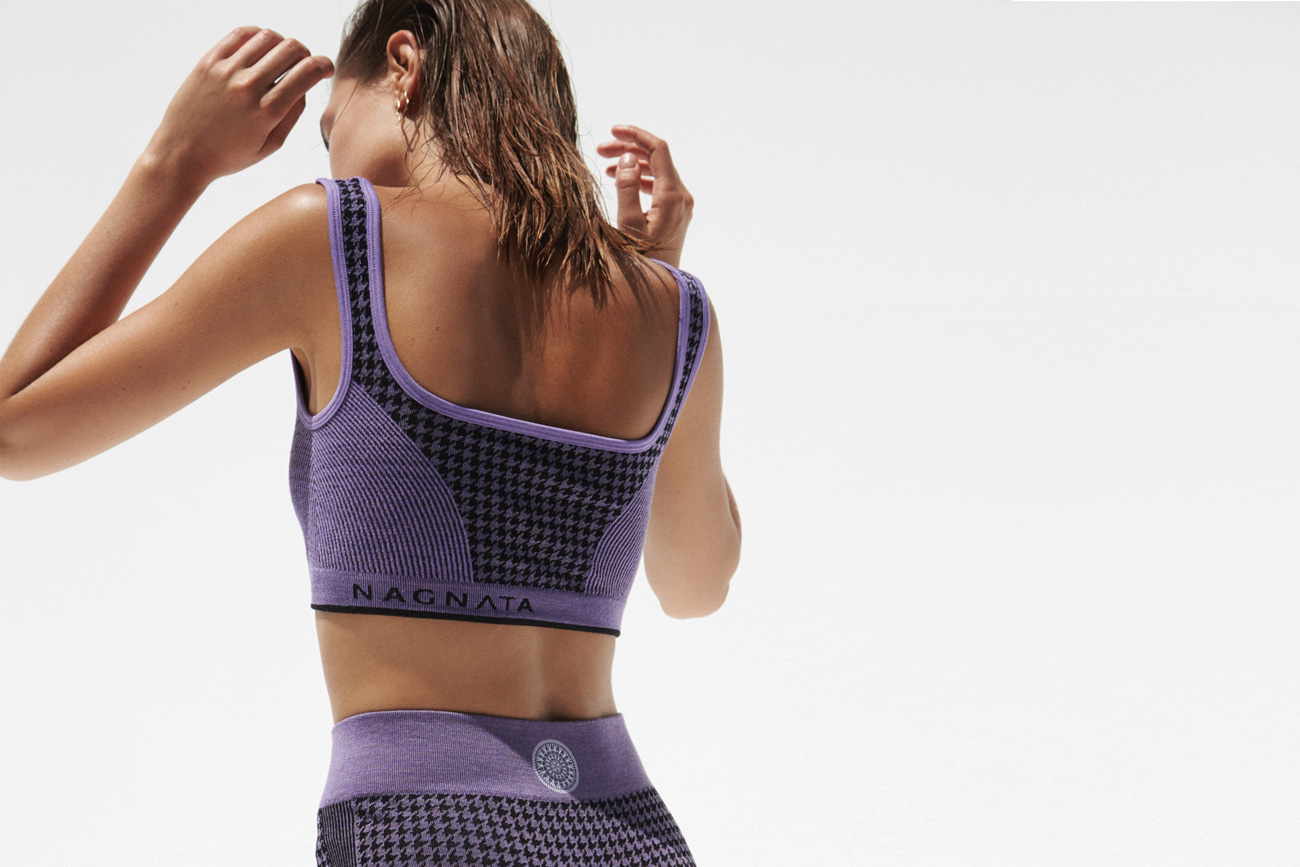 Nagnata: Wool Activewear for Women
Designed for hot yoga, pilates, cycling, dance and cardio exercise, the Merino wool range, created in collaboration with The Woolmark Company, is a performance-focused, unique fabrication that's sustainably made. Inspiration is drawn from traditional men's wool suiting fabrications creating a houndstooth knit jacquard pattern, combined with the brand's signature color-blocking and retro-sport details.
Laura May, founder and creative director, explains: "Our aim was to develop an innovative performance wool seamless knit fabrication that wasn't already on the market and which could provide a super soft second-skin hand feel using the highest possible content of natural fibers.
Circular knitting technology and an exclusive blended yarn has allowed the collection to concentrate on seamless garments, wherein no excess material is wasted in the construction phase and irritation next to the skin from seams is eradicated. This, combined with a blend of Australian Merino wool with Tencel, allows for fitted, high-stretch workout clothes with minimal use of synthetic fibers and maximum breathability and softness.
Merino wool is one of the world's most technically advanced fibers and works in total harmony with the wearer's body. We believe style and quality does not need to be sacrificed in the pursuit of sustainably produced fashion."
Vuori: Fleet Pant for Men
The Fleet Pant is a performance stretch knit made from recycled nylon that is ultra lightweight and breathable. So comfortable that Vuori has nicknamed the pants "silk pajamas."
Cami Ashing and Rebecca Bray, Vuori's Mens Merchandiser and Head of Design, explain: "The premium fabric met with an aesthetic that is not overly designed, but rather subtle details that give a more refined look and feel than many traditional outdoor brands.
"The fabric is made in Italy and is comprised of a very fine recycled yarn. It is knit densely, which gives it the clean, matte appearance from the exterior, but the knit construction blended with stretch gives you the freedom to move without restriction.
The brushed interior elastic with built-in drawcord at waistband allows for additional support and comfort without exposing the casual nature of a pull on pant."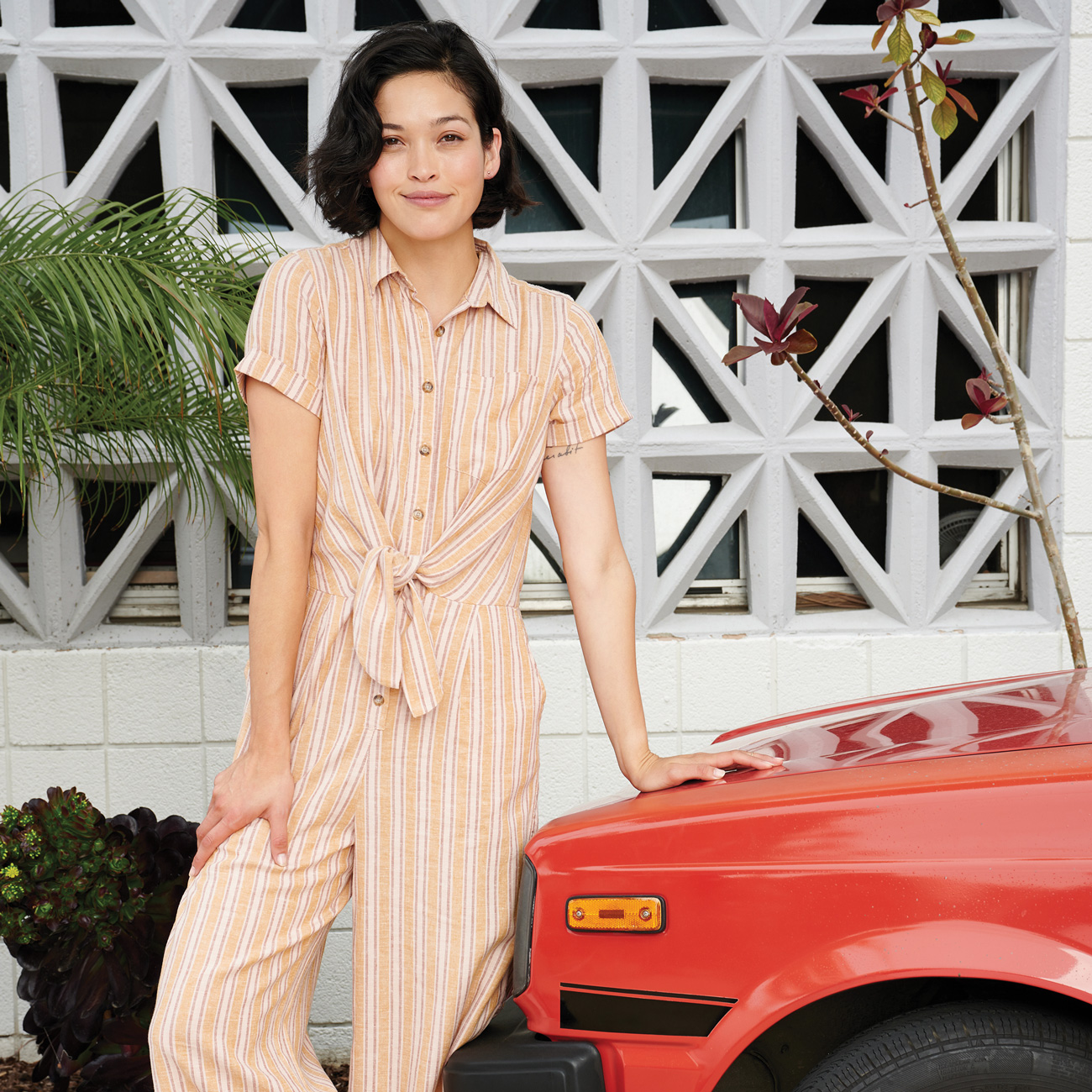 Toad&Co: Taj Jumpsuit for Women
The Taj Jumpsuit is (54% hemp, 44% Tencel, 2% elastane) stretch hemp fabric that lifts off the body for a linen-like cooling sensation, but with better wicking, better drape and better drying.
Guinevere Ganzel, senior women's designer, elaborates: "Pieces like this jumpsuit represent versatile travel and everyday life, whether it's a back-yard BBQ, traveling abroad or a weekend getaway on the road. The main feature that makes the piece appropriate for all of these activities is its comfort and ability to dress it up or down.
The addition of the stripe in this fabrication for Spring 2020 has me excited! Earthy colors with a vertical stripe are accentuated in the twist/tie front detail. It also has an encased elastic waistband in the back making this an easy, flattering fit for most people.
We're stoked on hemp, and have been for years, because it's such an eco-friendly fiber. This particular fabric also has a bit of stretch, offering a better alternative to its linen counterpart because it wrinkles less, bounces back from the carry-on bag, and provides a little 'give,' adding to its comfort level."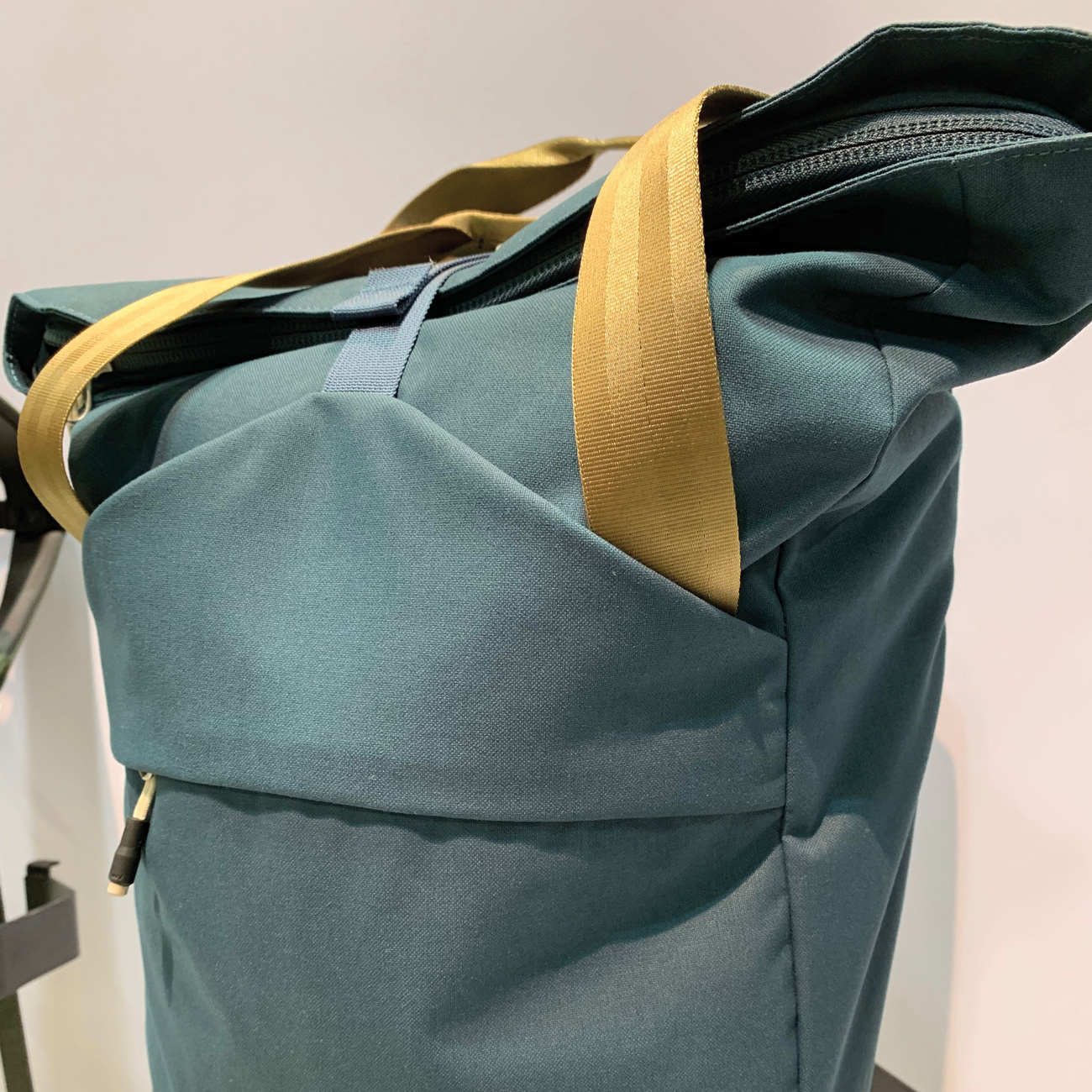 Osprey: Arcane Tote Pack
All the core performance aspects of function, durability and carrying comfort that Osprey has perfected over the years are incorporated in this pack but in a stealth, minimalist and sustainable manner. No bright colors or overt tech call outs.
Mark Galbraith, senior director of product, shares:
"All the key details of a comfortable suspension and minimalized essential core features required for a hike, bike commute or daily carry are incorporated into this product, but the aesthetic range of use is increased by translating these needs in a clean modern urban inspired aesthetic. The end result is a more useful product that is designed for far more of your carry needs both in terms of function and style than a traditional daypack.
This product shines in three main areas. First is the sustainability of the materials. Recycled 500D poly GRS certified and PFC/PFAS free DWR in bluesign approved fabrics for the body and lining are employed. Second is the overall result of the materials, trim, shape and color palette that combine to create a clean, minimalist multi-use aesthetic.
The urban athlete commuter is our intended customer for the Arcane collection. Daily carry/commute in an urban environment with the performance needed for weekend hikes."