What Consumers Want
As Values Shift, New Thinking Emerges on Purchasing Decisions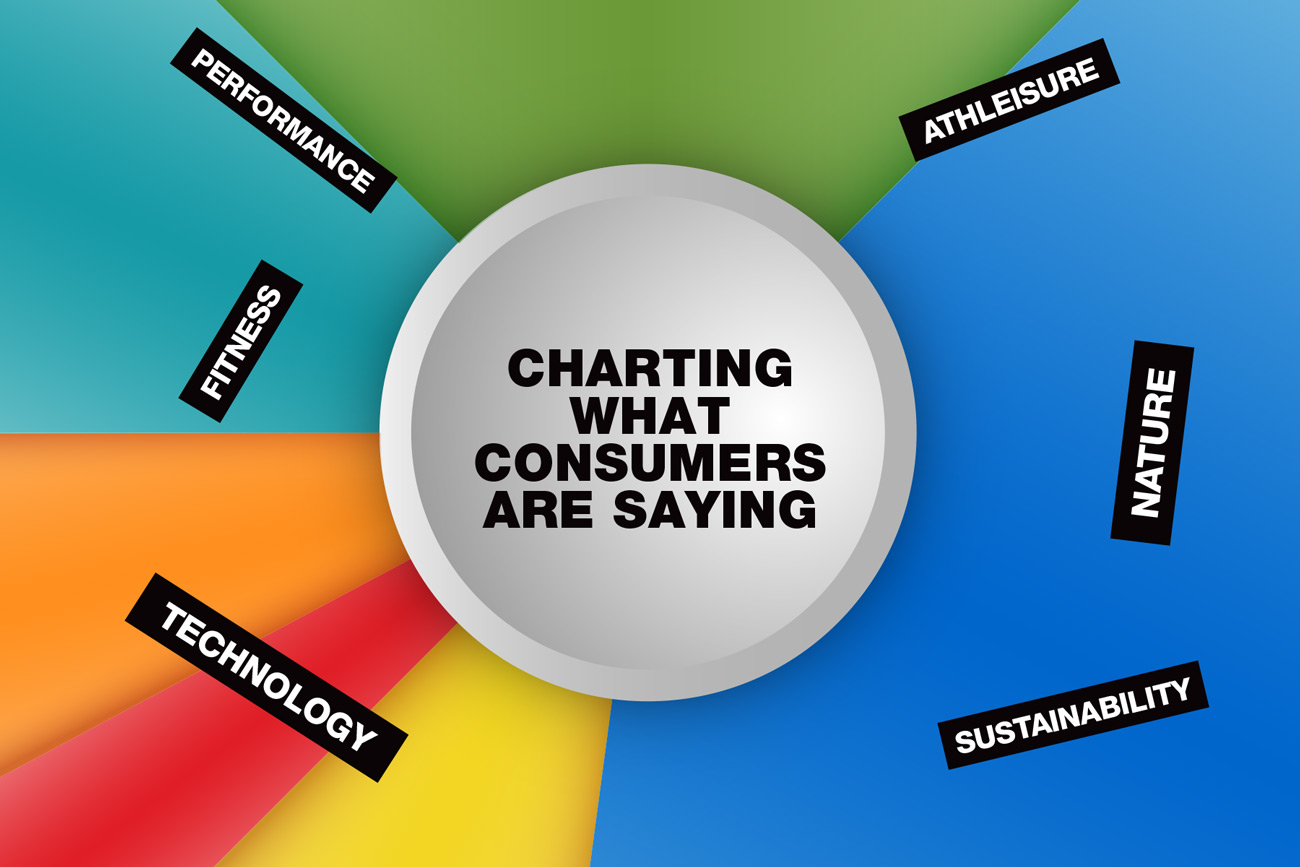 It's been said repeatedly, and it's true, consumers these days want experiences. Shoppers also want to feel good about what they purchase. Millennials especially like it when an item comes complete with a compelling backstory. And it's even better if this latest purchase is worn while touring the Amazon that includes tree-house accommodations and spectacular bird watching that offers eye-catching images to post on Instagram.
Performance features continue to pique consumer interest, but these days, shoppers expect more. Wicking alone is acceptable, but wicking plus comfort stretch? That's got game. The same is true for a recycled poly that also thermo-regulates. Winning consumers over is increasingly about added value — the more the better.
"It's not about the science, its about how the product feels and makes you feel," explains Denine Pezone, CEO of Ardent Associates, in Charlotte, NC.  She encourages her clients to focus on attributes that relate to how the product performs both technically, but even more so emotionally.
"When I talk with ingredient people, I encourage them to address the consumer directly."
— Denine Pezone, Ardent Associates
Pezone's research also identifies what she calls "active leisure time" as increasingly important. With the "casualization" of our culture, consumers are downscaling traditional responsibilities – think condo living versus upkeep of a four- bedroom home with giant-size backyard – to make time for fun getaways and active pursuits. "Products need to be multi-function, versatile and convertible/packable," Pezone says.  For example, a good looking pack that features lightweight durability fabric that can double as a travel bag but also works as tote for a trip to the local farmer's market.
"These days products are being talked about either by word of mouth endorsements, or viewed on Instagram, or friend recommendations, that's what pulls the product off the shelf," Pezone comments. "When I talk with ingredient people, I encourage them to address the consumer directly."  
Gone are the days when consumers walk into a store with an ad ripped out of the pages Backpacker magazine that extolls the virtues of a high-tech water repellency that can endure a two-week hike on the Appalachian Trail.
"Nobody sells your product like you do," is advice Pezone got early in her career and now tells her own clients. "You want to help the consumer be leisurely in their lifestyle. Tell them how your product does that."

Consistent Story Telling
When Hoi Kwan Lam joined HeiQ three years ago, she was impressed by the brand's identity in terms of technology and innovation. "Those are features I saw as strong when I first came to HeiQ, but those qualities were not traveling through with a story. I had to visually communicate story and make it loud and make it big, and create brand personality," explains Kwan, whose background includes customer branding at Proctor & Gamble in Hong Kong as well as an education in marketing.
"Textiles were new to me when I got to HeiQ, and I saw it as really innovative. There is no alternative to textiles – compared to other things in life," says Kwan, who serves as HeiQ's chief marketing officer.  
"Layer on cutting edge storytelling aesthetics, and think transformational, not transactional."
— Afdel Aziz, author, Good is the New Cool
Her approach was to always link the corporate "HeiQ" identity with every ingredient technology the Swiss company produced. She also chose the color red to enhance the brand's bold personality. Consistency in branding, for example, HeiQ EcoDry, HeiQ Smart Temp, and the pervasive use of red to add visual effect, now captures HeiQ's messaging.
When it comes to ingredient branding and how to talk about technology, Kwan digs in. "You need to go deeper and deeper into layers of communication," she explains. "Any way you can help the brands, and the mills, with marketing language is useful. Then if consumers are interested, they can look it up."

Purpose-Driven Marketing
Consumers are becoming more cause-oriented and less brand-conscious, according to industry forecasters. Afdel Aziz drove this point home in his keynote address to a standing room only audience during the recent Outdoor Retailer Summer Market trade show in Denver. Aziz, author of the book, "Good is the New Cool," advocates purpose-driven marketing as an effective tactic in today's business.  
Aziz advises brands to layer on "cutting edge storytelling aesthetics," and to "think transformational, not transactional." Additionally, Aziz cites social activism as a strong driver of brand growth.
He noted that Millennials and Gen Zers have higher expectations of brands. Specifically, nearly 64 percent of this demographic won't take a job if a potential employer does not have strong social responsibility practices, and 85 percent of Gen Z employees believe companies have an obligation to help solve social problems.
"Any way you can help the brands, and the mills, with marketing language is useful. Then if consumers are interested, they can look it up."
— Hoi Kwan Lam, HeiQ
Aziz presented this statistic: Millennials have a global annual spending power of $2.5 Trillion; 95 percent would switch a purchasing decision for a cause.
Regarding how environmental awareness fits with purpose-driven marketing, Aziz urged the outdoor industry crowd to take a big picture point of view and to "think beyond sustainability to abundance."
What Consumers Say
Textile Insight has long been interested in how consumers shop for, perceive, and prioritize performance textiles worn in their everyday life. To find out, we team with MESH01's Insight Platform to produce Trend Insight, a compendium of research on purchasing decisions by today's active outdoorists. Consumer feedback is based on questions we craft from industry trends, cultural influences, textile innovation, and shopping habits in general. Here, top takeaways culled from recent editions of Trend Insight consumer market research:

On Performance
Breathability and "wicking" are year round must haves. However, "Comfort/fit" was the mostly highly rated factor in response to the question, "What performance feature(s) in your apparel or footwear are essential no matter what the weather?
Respondents acknowledge "temperature regulation" as a worthy functional feature. However, when asked, "Have you bought any apparel or footwear in the past year that features "temperature regulating" performance, 62 percent said "NO."
Base layer is now recognized as a critical element of winter wardrobe; fleece remains the go-to fabric preference overall.
When asked what factor(s) influences your purchasing decision when buying garments for outdoor sports? "Fabric" is the number one response given, with anti-microbial ranked second.
Similarly, when asked, "When purchasing active apparel for travel purposes," respondents gave wicking the top spot, with anti-odor, water resistance and UV protection also making the list. Pack-ability and stain resistance are also mentioned favorably. This level of performance savvy bodes well for textile suppliers looking at the burgeoning travel market.
Wool is increasingly becoming a warm-weather option, with 40 percent of consumers surveyed saying they wear wool in summer.

On Sustainability
Slowly but surely sustainability is influencing not only what shoppers buy but see value in. 77 percent of consumers surveyed said they are willing to pay more for a sustainable/eco-friendly product. Another indicator of strides in eco purchasing patterns is that footwear as well as apparel is increasingly appreciated when eco materials are featured. More good news: today's consumers are looking for ways to integrate sustainability into their active lifestyles. For instance, it is encouraging that shoppers surveyed believe it is an individual's responsibility to recycle used clothing and footwear, and don't depend on brands and retailers taking on that task.
When asked are you buying fewer, but better quality items, a whopping 90 percent of respondents said, "YES."
78 percent of consumers surveyed replied that purchasing a garment described as eco-friendly makes them "feel good."
95 percent of consumers told us that brands that are working to be sustainable should advertise it.
The industry has done a good job in terms of consumers understanding what "made responsibly" means; that phrase now resonates most clearly with respondents.
Yet, 44 percent said they place "very little" consideration on the eco impact of the packaging and shipping of products they buy online.
On Cultural Issues
Eighty-one percent of respondents have become brand loyal to a certain fabric or fabrics based on a company's social media.
The term "Buy Local" has become more popular that "Buy USA."  
When asked are you buying fewer, but better quality items, a whopping 90 percent of respondents said, "YES."
Two hot topics – tariffs and plastics — are not generating as much concern as might be expected. When asked, "Is tariff talk and higher prices of product made outside the U.S. impacting purchasing decision?  82 percent of those queried said "NO," and only 18 percent said, "YES." The plastics issue skewed slightly better. When asked, "Do you relate the concern about plastics to your wardrobe products made with polyester," 66 percent answered "NO" and 34 percent replied, "YES."

On Industry Trends
Customization is a huge industry trend, however shopper interest in purchasing "customized" items, and/or making their clothing and footwear unique in some manner, is borderline "meh;" 51 percent were very interested in "customized" product; just 39 percent would take advantage of an opportunity to embellish or personalize product.
On the other hand, our survey participants do align themselves with a growing trend toward being invested in how and where product is made. Specifically, 55 percent of participants responded being more interested in fostering a personal connection to the community surrounding how product is made.
In recent years, as performance has become more lifestyle-driven, textiles that crossover from sport to street have been a focus of innovation. When we asked consumers how important is it to you that performance product align with current fashion trends only 17 percent said it was "very important."
A smaller than expected percentage of survey participants own wardrobes with a large selection of athletisure wear. While respondents report to be generally in favor of the comfort and versatility that athleisure looks afford, these casual, stylish athletic looks lack fitness authenticity, according to our survey takers. For example, when asked to define athleisure, one participant's response was: "You looked like you just worked out, but did you?"
Questions regarding the value of hangtags and labels generated interesting results: some respondents focused on garment care, while others used labels to identify material content. When asked does the hang tag information or product care label effect your purchasing decision in any way: 39 percent of respondents say "NO." "These clothes are going to be beaten on the outside. The washing machine is the least of my concerns," was a sample response.