Minding the Gap in the Sustainability Narrative
Systems Approach to Closing the Textile Manufacturing Loop.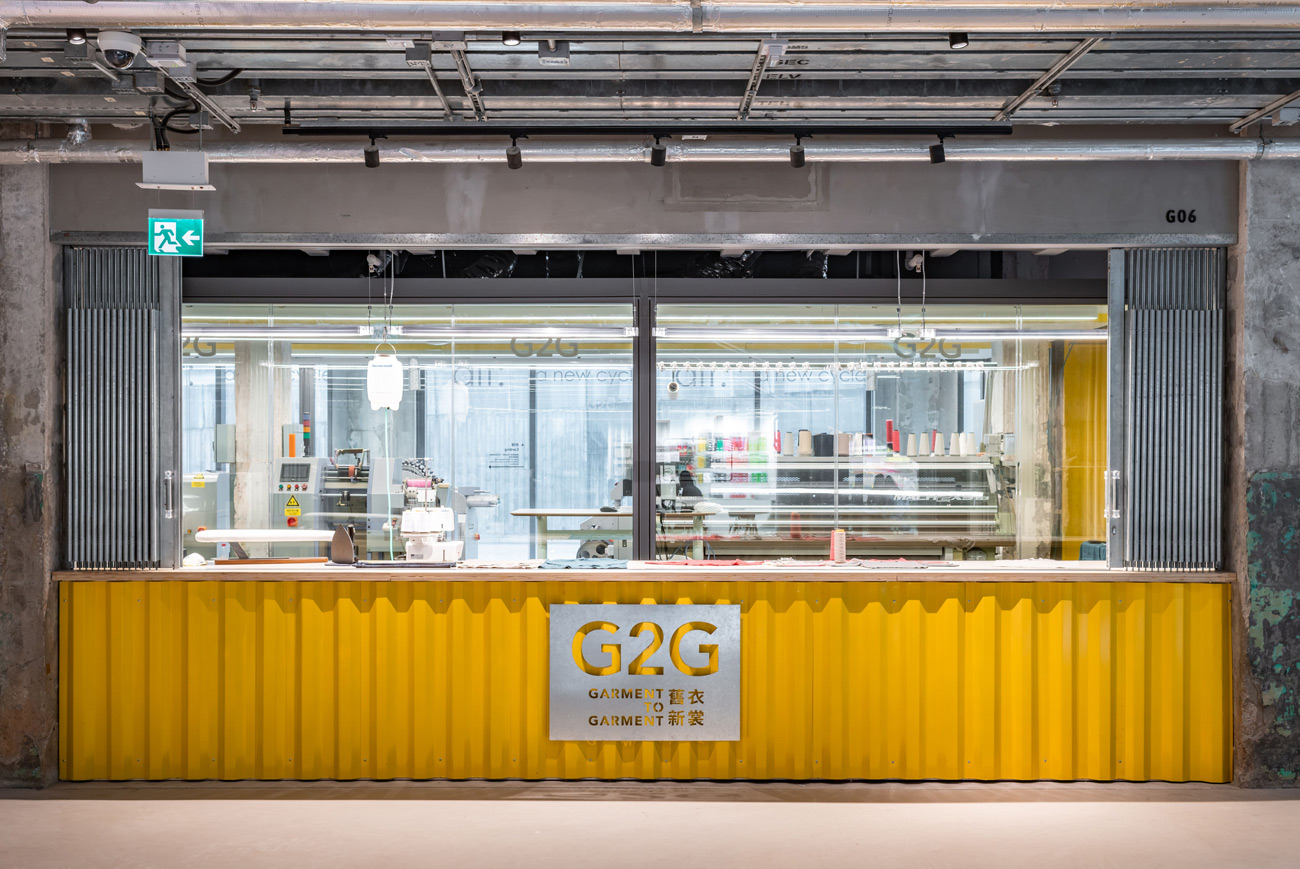 Circularity" has become the new buzzword in the textile industry's struggle for sustainability. But what does it mean? And how does circularity differ from sustainability?
The U.S. Chamber of Commerce Foundation breaks it down this way: Sustainability is an umbrella term for meeting the needs of the present without compromising the ability of future generations to meet their own needs. A circular economy is a restorative model that emphasizes longevity, reuse, and recycling.
The circular economy is based on three principles, according to the Ellen MacArthur Foundation: designing out waste and pollution, keeping products and materials in use, and regenerating natural systems.
When applied to textile and apparel manufacturing, circularity is a concept that goes beyond sustainable practices such as using organic materials, eliminating toxic chemicals, or creating textiles from post-consumer plastic bottles.
A circular system reduces reliance on virgin materials and resources by ensuring that textiles and apparel have a long and useful life before being recycled; and that the recycling process results in new products of similar value.

3 Principles of the Circular Economy
‍1. Designing out waste and pollution
2 Keeping products materials in use
3 Regenerating natural systems
Collaborative Consumption
Giving unwanted textiles and apparel a longer life is the first tenet of circularity; and the need to keep textiles out of the landfills and oceans is, frankly, a no-brainer.
The proliferation of take-back-and-refurbish programs at retail and by brands such as Eileen Fisher, Patagonia, and REI; the growing number of consignment and second-hand retail stores such as Buffalo Exchange; and the success of internet-based second-hand and rental sites such as ThredUP and Rent the Runway are only beginning to make a dent in the mountain of castaways sent to landfills.
The concept has been dubbed "collaborative consumption."
"Companies are beginning to find new value in the $460 billion worth of wearable clothing that is discarded each year," writes Lauren Phipps, director and senior analyst, circular economy, for GreenBiz Group.
Analytics firm Global Data predicts that secondhand clothing will represent 13 percent of our wardrobes in 10 years. And according to ThredUP, the market for resale clothing is expected to double in value from $24 billion today to $51 billion in 2023.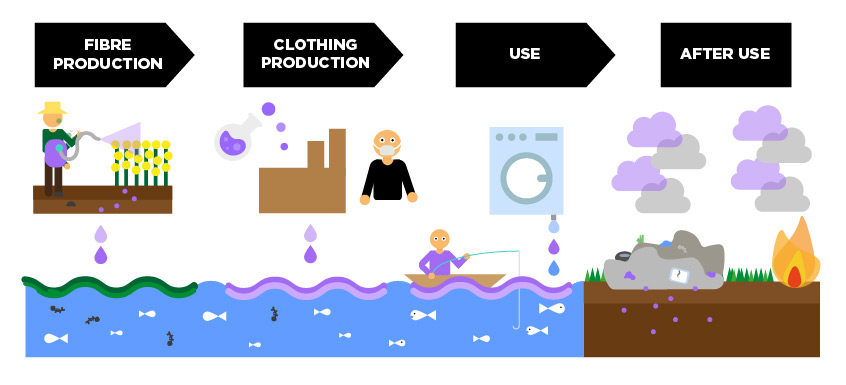 Closing the Loop
"Closed loop processes are the consummate examples of circularity," says the U.S. Chamber of Commerce Foundation. "In these systems, products are designed and managed so that when they reach the end of their useful life, they can be disassembled and have their parts and materials used in new products of the same type."
Most "sustainable" brands and retailers tout their use of recycled polyester textiles made from post-consumer PET bottles. But while creating textiles from plastic bottles keeps the bottles out of the landfill and the oceans, it is not a circular system.
The mechanical recycling processes used to create PET fibers from post-consumer bottles is successful; but mechanical recycling of used garments and textiles results in secondary materials that are inferior, due to the complexity of fiber blends, dyes and finishes, etc.
As a result, most discarded textile products end up in the landfill, or are incinerated.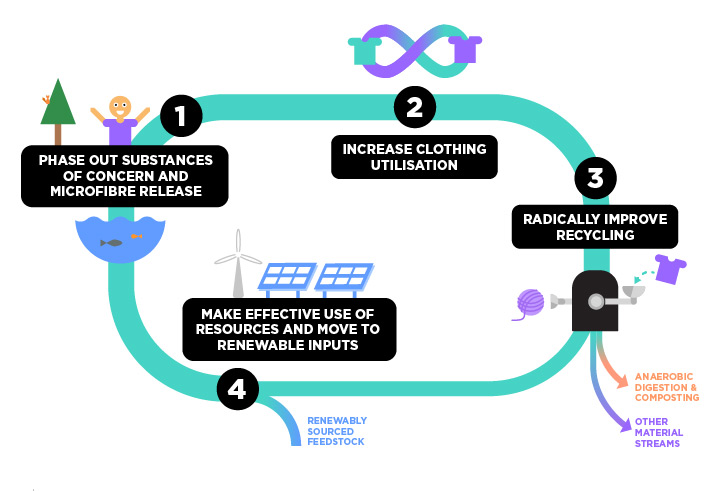 Chemical Recycling
There is growing interest in chemical recycling, which enables the separation and reuse of the various materials found in all manner of textiles.
In chemical recycling, the PET polymer is broken down and purified to create monomers, the basic building blocks of virgin PET resin. Chemical recycling is also used to separate PET from other materials, removing colorants and maintaining the value of the polymer.
Far Eastern New Century's FENC TopGreen rTex separates post-consumer polyester blended textiles without harmful solvents, using a "thermodynamic solid-state reactor under temperature and pressure."
Eastman Chemical Company plans to open an advanced circular recycling center that will use methanolysis, an innovative technology that breaks down polyester-based products into polymer building blocks.
Based in London, Worn Again's dual polymer chemical recycling process separates out polyester and cotton fibers said to be comparable in quality and competitive in price to virgin resources.
The Hong Kong Research Institute of Textiles and Apparel (HKRITA) Garment-to-Garment (G2G) recycle system, developed in collaboration with the H&M Foundation and yarn spinner Novetex, uses a hydrothermal treatment to separate and upcycle fibers from blended post-consumer textiles.
Advanced materials company PrimaLoft announced that its PrimaLoft Bio fibers can be chemically recycled with a 95 percent yield rate, and reused to produce new insulation or fabric fibers while maintaining the same level of performance.
Cellulosic fibers such as cotton are also being regenerated to create textile products such as Tencel REFIBRA and Asahi Cupro.

Circularity for All
It's important to understand that the concept of circularity can be applied to any and all manufacturing systems, reducing the reliance on virgin materials.
The Circularity Gap Report 2019, presented at the recent Davos Economic Forum by the group Circle Economy, found that just nine percent of the 92.8 billion metric tons of minerals, fossil fuels, metals and biomass that enter the economy are re-used annually.
By adapting circular manufacturing systems, says the report, the world can maximize chances of avoiding dangerous climate change.