Pose Hose
Socks Suited for the Studio that Raise the Bar on Performance.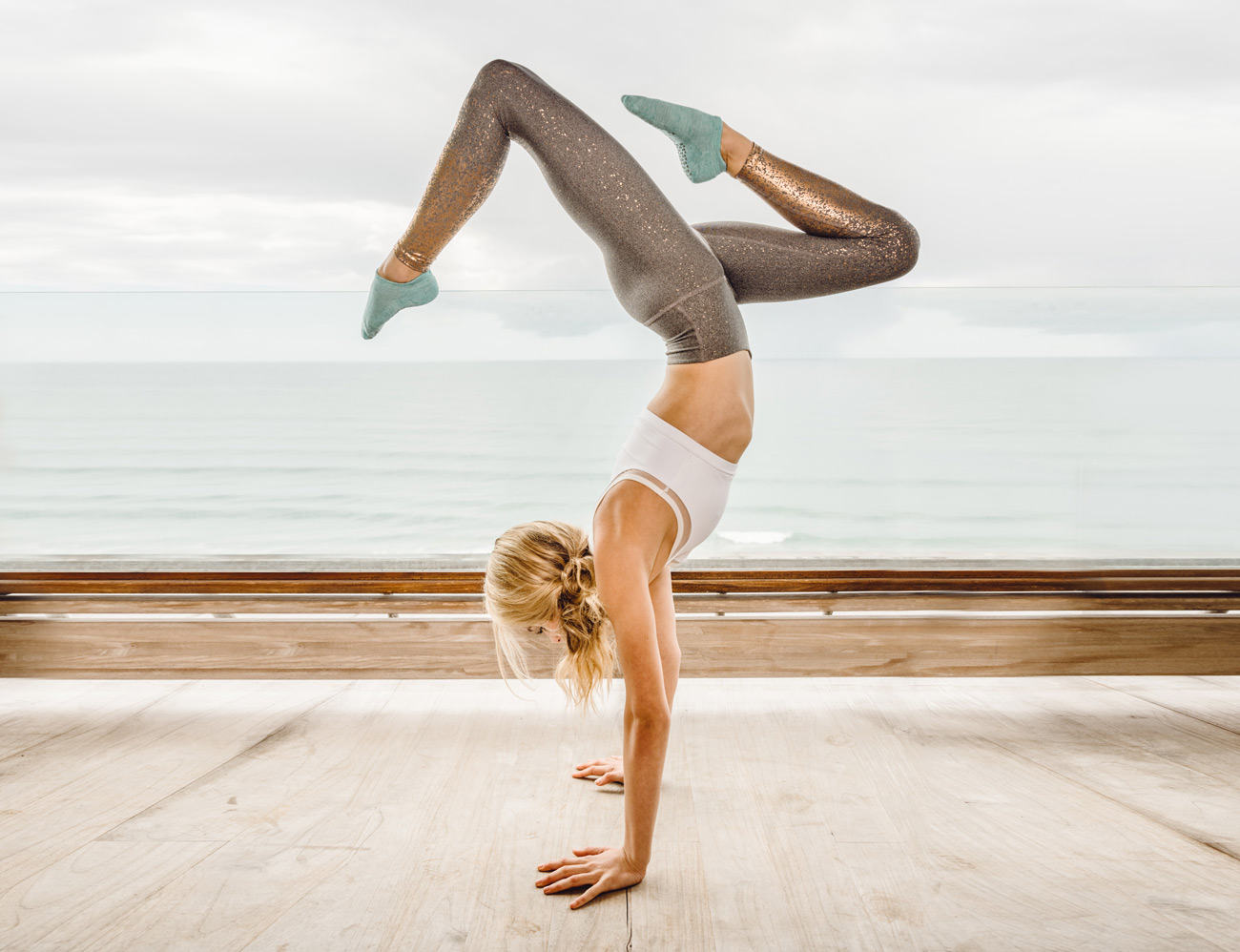 Studio socks can take a beating. Barry Buchholtz and his team at Thirty Three Threads have found a way to make socks pretty, yet high performing for yogis, cycling enthusiasts and aspiring ballerinas. "While the product has to look good, the single most important element is performance, and we always go back to the premise that we want to make products that help our customers do what they love better," says Buchholtz, the firm's president. Thirty Three Threads makes socks under the ToeSox and Tavi Noir brand – and Base 33 is its new brand for men.
We chatted with Buchholtz to learn more about new categories, opportunities and the brand's unique sales strategy.  
What sparked the idea to get into the sock category?
"It all started back in 2004. We were fully immersed in the studio scene ourselves and saw a genuine need for a product that would create a hygienic barrier during barefoot activities such as pilates, barre and yoga. Once we started thinking about it, we realized it was about more than just hygiene — people were slipping on equipment, hurting their feet during barre classes, and needing firmer footing for all their classes, so we set out to design a sock that could create the hygienic barrier and also enhance performance so people could get even more out of the activities they loved and perform at their best."  
How is Thirty Three Threads different from other sock brands out there?
"After fifteen years of sock design and manufacturing, we have truly perfected the art of creating products that are both high performing and beautiful. We've always used organic cottons and focused on premium raw materials. We also put huge attention to detail in the design so that it is functional (heels that stay in place, support where you need it most), as well as attractive (unique finishes, one-of-a-kind embellishments). Ultimately, our socks are always created with one main goal — to help our customers perform better in the activities they love."
Tell us about your in-studio sales format.
"Our studio partners are the most important part of our distribution strategy. Being able to reach our consumers in the place where they actually practice their exercise regimens is the best way to authentically connect with them. Our philosophy has always been that our product is true equipment that will enhance your performance during class… so what better place to sell these products than the studios that they attend?"
"After fifteen years of sock design and manufacturing, we have truly perfected the art of creating products that are both high performing and beautiful.
You've developed a new men's line, Base 33. What is special about these socks and was this a consumer-driven decision?

"Everything we have ever done has been first and foremost customer driven, and Base 33 is no exception. Over the past several years we have seen more and more male consumers practicing yoga and pilates, yet our ToeSox and Tavi Noir products are mostly purchased by our female customers in mind. With some general changes to the styling, raw material, and colorations; we have developed a line focused 100 percent on the active male consumer."
What is new for Tavi Noir? What features do pilates and barre customers need?
"We are constantly looking for new and innovative products that we can bring to our customers. This might mean style and color, but we also continue to experiment with different material mixes, sock weight, and just overall performance aspects of the products."
You are expanding your reach into sports like cycling. Tell me why. What makes a cycling sock different?
"While the grip market is our main area of focus, we realize that our customers have come to know and trust us and want to buy our products for everyday use. Again, it comes back to demand. Our cycling and sport products allow us to reach our customers in activities that require wearing shoes while still providing a high performance and beautiful product. We've been working on this product for over two years and are really excited to have created a sport sock using Perfdry. It's made on a very specific type of knitting machine and utilizes some of the latest techniques that have allowed us to provide a product that performs to the demands of our cycling and sports customers. From the fit, to the ventilation and the moisture wicking capabilities, this line has already been extremely well received by the market. We've got new designs coming in Spring 2020, and are really excited to see this line continue to grow."  
What else are you looking to do in the future in terms of socks both in and out of the studio?
"The sock market continues to grow and we are looking at several different areas in which our three brands can continue to create unique, high quality products focused on performance. We have plans to launch a kid's line, collaborations and partnerships with some major licensing partners, and are expanding our Tavi Noir casual line in 2020 with some beautiful additions – so 2019/2020 is going to be busy!"
How has the movement to group and studio classes changed your business?
"Our business was founded on the studio market, so this shift to the studio fitness market has actually been great for us as we are the authentic partner in this space. We've worked hard to develop products and services that really benefit the smaller studios, making it easy for them to be successful in the sock market. Everything from our b2b ordering, point of purchase displays and the wide range of product we offer is focused on creating successful relationships and have made us the natural choice for that industry."