Achieving Net-Zero
Can the Textile Industry Become Carbon Neutral?
The textile and apparel industries are steadily making strides towards becoming more sustainable. Recycled and organic fibers, kinder chemistries, more efficient manufacturing and local sourcing are yielding measurable reductions in waste and pollution. But the fashion industry is also a major contributor to climate change through greenhouse gas (GHG) and specifically CO2 emissions.

Why GHG Emissions Matter
While some choose to deny the scientific evidence, GHG emissions contribute to the amount of heat captured in the earth's atmosphere, driving climate change at a growing rate. According to Scripps Institution of Oceanography, May 2019 saw the highest level of atmospheric CO2 in its 61 years of observation, 3.5 ppm (parts per million) higher than May 2018's 411.2 ppm peak, the second-highest annual jump on record.
What's that got to do with textiles? According to the UK Parliament's report on Fashion's Environmental Price Tag, the global textile industry produces an estimated 1.2 billion tonnes (metric tons) of CO2 equivalent per year — more than international flights and maritime shipping combined.
Quantis' 2018 Measuring Fashion report estimates that across the lifecycle of clothing, the industry has an annual carbon footprint of 3.3 bn tonnes CO2. Combined with the 700m tonnes carbon footprint generated by footwear, it accounts for 8.1 percent of global climate impacts.
While the burning of fossil fuels for manufacturing and transport are primarily to blame, the industry's GHG emissions also come from natural fiber agriculture and animal farming.‍
Taking a Stand on CO2 Emissions

The UN Climate Change Fashion Industry Charter for Climate Action, launched in late 2018, rallied leading fashion brands, retailers, organizations, and logistics companies to align with the Paris Climate Agreement's goal of achieving net zero carbon emissions by 2050.
One approach is to eliminate coal-fired and non-renewable energy use.
For example, since 2008 the Italian firm Eurojersey s.p.a., makers of warp-knitted Sensitive fabrics, has met its total energy needs from renewable sources with a solar PV system producing around 17,000 kWh/year, according to head of marketing Michela Delle Donne.
Additionally, the installation of a cutting-edge solvent recovery and purification system yields about 30 million liters of hot water per year, saving over 200 tonnes of oil equivalent. The system has also enabled the company to reduce the annual quantity of natural gas used by 350,000 m3, and CO2 emissions by 700 tonnes.
Megabrand Gap has invested in the Corporate Renewable Energy Aggregation Group, serving as an anchor tenant for a large off-site solar energy producer. From 2020, Gap's share of the project will offset the energy consumption of its B Corp brand Athleta's U.S. stores and operations; and contribute to Gap Inc.'s commitment to reduce its GHG emissions by 50 percent by the end of 2020.
The UK's largest clothing retailer Marks & Spencer launched its sustainability Plan A in 2007. Since then, the company has reduced its operational carbon footprint by 75 percent and made its global operations carbon neutral.
Steps taken include the purchase of energy from renewable sources; the installation of large solar energy panel arrays; and the implementation of sustainable design principles and materials for stores, warehouses, and operation centers.
M&S is now working with its value chain partners to reduce their GHG emissions by 13.3m tonnes by 2030. In addition, the company offsets the remaining emissions by purchasing high quality carbon credits.
Materials Matter
Carbon emissions also result from raw materials, whether synthetic or agricultural.
Lenzing Group, makers of Tencel and other cellulosic fibers, recently announced its intention to become the first carbon neutral fiber producer by 2050.
Recycled polyester's carbon footprint is estimated to be between 59 percent to 75 percent less than that of virgin polyester, 90 percent less than that of nylon, and 50 percent less than that of conventional cotton.
The carbon footprint of cotton cultivation can be mitigated through sustainable practices including reducing fertilizer and pesticides; energy efficient ginning; and using organic practices or biochar to encourage carbon sequestration.
The passage of the 2018 Farm Bill in the U.S. finally legalized the production of industrial hemp, which sequesters carbon (returning it from the atmosphere to the soil) at a prodigious rate. By some measurements, one ton of hemp yields 1.62 tons of CO2 sequestered.
Forward-thinking brands such as Patagonia, Levi's Wellthread Collection, and Toad&Co. are seeing success with their collections made from hemp fiber.
Forward-thinking brands such as Patagonia, Levi's Wellthread Collection, and Toad&Co. are seeing success with their collections made from hemp fiber.
"We love hemp for its low environmental impact: it's grown without pesticides, synthetic fertilizers or GMO seeds, and is predominantly rain fed. Hemp is a phyto-remediative plant so it decontaminates soil by absorbing pollutants, replenishes vital nutrients, and prevents erosion," enthuses Kyle Boettcher, head of design for Toad&Co.
But U.S. hemp production is currently directed into the CBD industry for quick ROI, as the processes for decortication and spinning don't yet exist at scale in the U.S. "The textile industry needs to step up if we are serious about addressing climate change through fiber solutions," says outdoor industry veteran Dave Petri, now heading Cynosura Consulting. "The Chinese are leaps and bounds ahead."
"Hemp fiber presents an opportunity for jobs and economic growth to support carbon neutrality," Petri continues.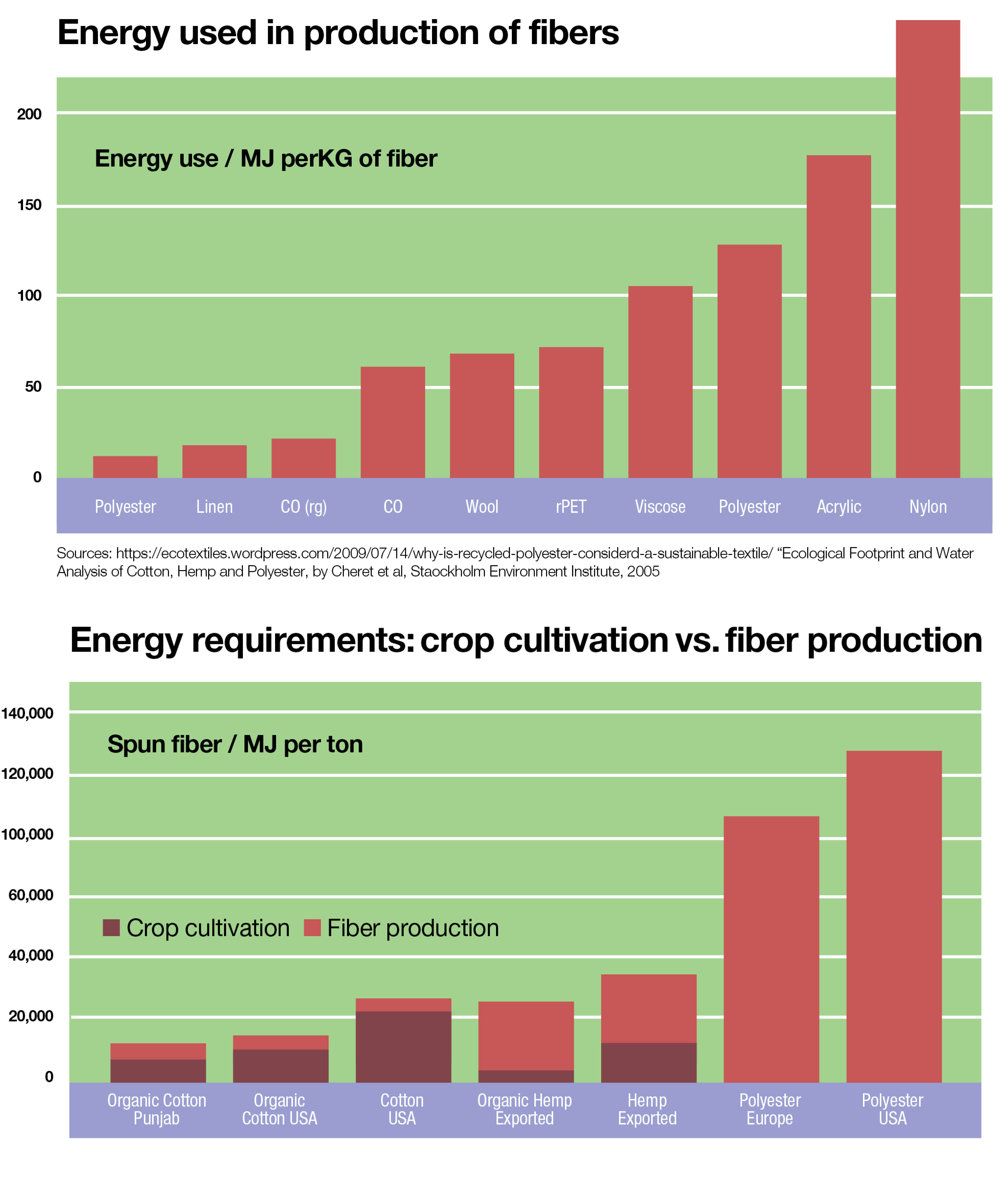 No Easy Answer
Even with the efforts being made, the uncontrolled carbon emissions and transport costs inherent in offshore sourcing scenarios are discouraging. "You might make a shoe out of entirely recyclable materials, but if it's made in Asia and spends two months on a boat getting across the ocean, you are clearly not carbon-zero," NPD's VP and sports industry analyst Matt Powell reminds us.
Achieving carbon neutrality by 2050 will require the apparel industry to further focus on renewable energy sources, fiber technologies that aid in carbon sequestration, and revised sourcing scenarios that include local manufacturing.