Mission Possible
Climate Positive Platforms are A Top Priority in 2020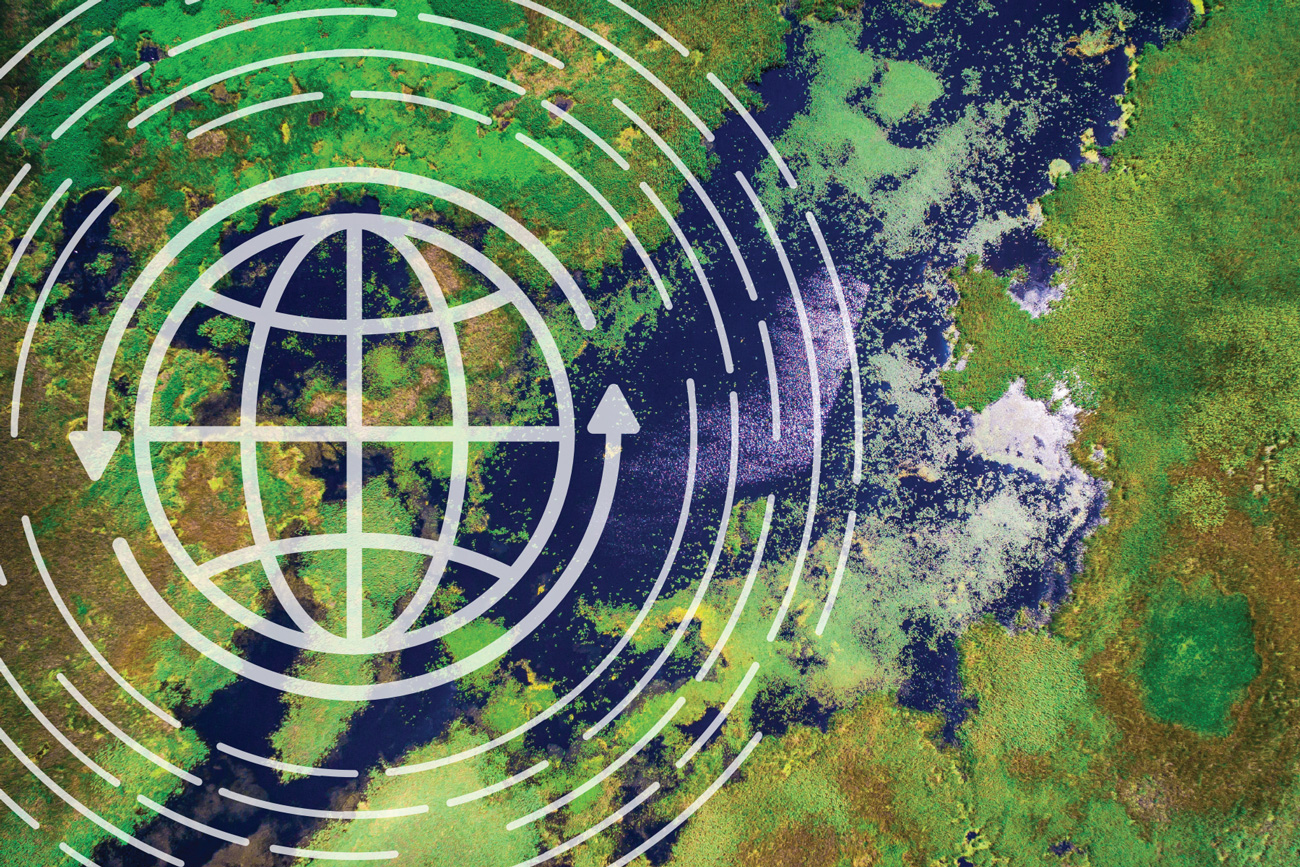 Textile firms are setting ambitious environmental goals as the need to expand the boundaries of sustainability takes on a heightened sense of urgency within the industry. Which is understandable; According to recent analysis from the United Nations, we have 12 years to limit our climate crisis.  
New and revised corporate sustainability strategies highlight the textile community's commitment to eco–responsibility. The textile industry, especially fast fashion, remains a leading contributor to environmental distress, pushing a "use and discard" mentality. "We know we have a clear responsibility to address this crisis and to make a difference," says Mike Joyce, CEO, PrimaLoft.
Textile suppliers, across the board, have taken this to heart, introducing a slew of significant innovations in recent years. While laudable, individual company achievements may no longer be enough. A "better together" and "power in partnership" mindset is emerging based on a platform of common goals and a shared global mission to protect the planet. Says Joyce: "We are encouraged to see a collective effort around the world to incorporate more sustainability into the supply chain."
To that end, textile firms are adopting the United Nation's Sustainable Development Goals (SDGs). "The UN goals are becoming more of a common language that stakeholders in our industry and beyond understand. They reflect the key global social and environmental challenges in our industry, and also correspond with the topics that are important to our customers while enabling us to make a difference," reports the team at Gore-Tex.
The Sustainable Development Goals are a collection of 17 global goals set by the United Nations General Assembly in 2015 for the year 2030. They address a range of challenges related to environmental degradation and climate, to societal issues related to poverty, inequality, and justice.
With SDGs as guideposts, firms are concentrating on carbon reduction, manufacturing upgrades, recycling technologies and greater emphasis on social responsibility for the year ahead and onward towards 2030. Textile execs believe these efforts will accelerate a path forward to circularity.
"Sustainability in its purest form is when something can continue on forever without doing harm to future generations," says Rüdiger Fox, CEO, Sympatex Technologies. "It is not about one product or one process. It's not about being 'a little better.'"
Indeed, "scalable solutions" are increasingly viewed as the means to make significant eco impact across the entire value chain. "Our journey can stop when the loop closes between upstream and downstream inputs and circularity becomes a reality," states Fox, who adds, "Circularity is putting the puzzle pieces together in a new, different way to connect the collectors with the recyclers and the recyclers with the suppliers to close the loop. You want everyone to join the party."
Here, top takeaways from executive responses to questions about current outlooks on sustainability and plans to advance climate-positive platform going forward:
Responsible Solutions
At the upcoming Intertextile Show in Shanghai, Lycra will introduce Lycra EcoMade, the first Lycra offering made in part with pre-consumer waste, thus diverting material from landfill. The company is also announcing a new drive to rapidly convert its broad Coolmax and Thermolite fiber ranges to EcoMade offerings (made from 97 percent post-consumer waste). "We will also introduce three all new Coolmax EcoMade products: black, a special product for warp knitting, and one for wool blends. These will be priced to encourage broad scale adoption."
‍— Jean Hegedus, sustainability director, Lycra Company

Schoeller's current offerings include a new thermo-regulating technology based on renewable raw materials, genuine upcycled products with Econyl yarn, 100 percent recycled articles, and PFC-free finishing technologies based on sustainable raw materials. "Schoeller is also currently installing over 50,000 square feet of solar panelling to its mill and headquarters in Sevelen, Switzerland."
‍— Stephen Kerns, president, Schoeller USA

"The Polartec innovation pipeline with regard to sustainability has never been more encouraging. We recently introduced Polartec Power Air, the first fabric technology specifically engineered to reduce shedding, committed to 100 percent recycled materials across the entire product line, and announced a partnership with Kraig Biocraft Laboratories to bring to market the first fabrics made from spider silk."
— Doug Kelliher, VP of Product Management at Polartec
Manufacturing Upgrades & the Power of Partnerships
This summer, Unifi announced a partnership with Oerlikon Barmag on innovative new texturing technology that is positioned to revolutionize yarn manufacturing. "These new Evo texturing machines will allow us to continue our history of manufacturing excellence and provide our customers with an expanded portfolio of performance products with broad market appeal, including Repreve performance fibers, and do so while consuming 25 percent less energy than legacy machines."
— Richard Gerstein, EVP Repreve Future Strategy and Global CMO, Unifi

The Lycra Company has made profound measures at numerous plants to conserve natural resources. "Each of our plants has individual water usage reduction goals.  Two of our plants – Monterrey Mexico and Singapore – have reduced their water consumption by more than 20 percent since 2013. Our facility in Brazil reuses treated effluent for cooling tower makeup water. In addition, our manufacturing sites have implemented over 250 initiatives aimed at reducing energy intensity. Half of our plants have achieved reductions of more than 10 percent and two of our plants have improved by more than 20 percent. Recently our manufacturing facility in Virginia switched from coal to natural gas fired boilers, reducing overall boiler emissions by 95 percent and GHG emissions by 60 percent. Our plant in LaPorte, Texas that manufactures a raw material for Lycra fiber recently developed an alternative commercial outlet for a by-product that would otherwise be used as fuel."
— Jean Hegedus, sustainability director, Lycra Company
HeiQ was recently awarded the "Umweltpreis der Wirtschaft 2019" (Swiss Environmental Award) for its environmentally friendly HeiQ Clean Tech. The dyeing process helps lower CO2 emissions by 30 percent. "The HeiQ Clean Tech product also reduces a textile mills water consumption by 30 percent and allows for 30-50 percent faster dyeing time for polyester fabrics."
— Carlo Centonze, CEO, HeiQ
Sustainable Outlook
"At Gore, our general approach to sustainability is based on three pillars: sound science, Life Cycle Assessment and the durability of our products. In addition, we truly believe in the values of cooperating with our partners in the value chain and other stakeholders to continuously improve our products, processes and services. We are confident that all our plants will be ISO 14001 certified by the end of this year as well. Gore Fabrics has set a goal of eliminating PFCs of Environmental Concern from the life cycle of consumer fabrics products by the end of 2023."
— Gore-Tex team

"At HeiQ, when we develop new products on our own or with our brand partners, we always begin the research with sustainability as a top priority. We have taken a few major steps in the first half of this year, including the launch of our Fabric Lab which provides brand partners access to our deep knowledge base on textile engineering, aiming to assist them create better products beyond the use of merely better textile finishing."
‍— Carlo Centonze, CEO, HeiQ
Creating Circularity
The Sympatex polyester membrane is a mono-material, and serves as the key starting point to allow the company's forward progress to recyclability. "When you think two-thirds of clothing made is from synthetics, and 80 percent of those synthetics are polyester, if you laminate with other materials it can't be recycled. Our answer is that a laminate built out of old textiles will debut in 2020. And by 2050, 50 percent of all Sympatex product will be made from 'old' textiles. The 21st century is the gold rush of recycling technology. It's about changing the garbage mindset."  
— Rüdiger Fox, CEO, Sympatex Technologies

Most recently, PrimaLoft took an important step towards combating textile and plastic pollution with the introduction of PrimaLoft Bio. "As the first-ever 100 percent recycled, biodegradable synthetic insulation and fabric, PrimaLoft Bio has also been proven to be renewable in a circular economy. Our 2020 goal is to have 90 percent of PrimaLoft insulation products contain at least 50 percent PCR content, without compromising performance."
— Mike Joyce, CEO, PrimaLoft