Vibrant Color Meets Conscious Design
To live more sustainably is a challenge we all face everyday. We try our best to recycle more, to be less wasteful and to shop mindfully in an effort to purchase goods from companies that share our values.
Product developers also strive to achieve sustainability goals in their work to create exciting product collections. However, that is easier said than done. Problems often arise finding the ideal eco-conscious material to match their design vision coupled with difficulty overcoming barriers related to minimum order quantities and price.
CHROMUCH brings a fresh, designer-friendly approach. Advanced, new technology balances aesthetics and performance in yarns that are as eye-catching as they are functional. The company's recycled solution dyed polyester offers vibrant, long lasting color that is responsibly made, on trend, and accessible to the design community. In other words, Chromuch solves the eco concerns and design dilemmas long associated with solution dye fibers.
The company's patented ChromShield™ technology levels up the solution dye process, providing vibrant color with superior fade resistance from the elements like UV, machine washing and general wear and tear. ChromShield™ sheath and core structure enables exceptionally lively colors on solution-dye fibers. The sheath layer provides additional color enhancement as well as colorfast protection to the pigment core. Traditional solution dye fibers only have the exposed pigment color core.
"Deep and vibrant colors with durable colorfastness are not usually achieved with solution dye fibers," states Mike Shih of Chromuch. "Under the same color shade, ChromShield™ allows better colorfastness performance."
Performance On Demand
By choosing CHROMUCH, rich color and functionality are inherent to the yarn, innovating the entire design process. ChromShield™ technology allows a variety of customizable functional options for product developers. Whether the design demands quick-dry, antibacterial, UV blocking or heat retention properties, Chromuch can deliver superior textile performance sustainably.
"With ChromShield™ the outer sheath layer allows functional chemistries to be added to the yarn," explains Shih. "This is not a topical finish that can wear off; the performance is embedded as part of the yarn."

Certified Eco
CHROMUCH is advancing water-free dyeing with the creation of premium, eco-certified recycled fabrications. Chromuch solution dye fibers are not only water-less, they are made of recycled PET bottles and are GRS 4.0 certified. For every kilogram of Chromuch fiber, 77 plastic bottles are removed from landfills. Chromuch solution dyeing saves three gallons of water per yard, and savings of 3000 liters of water per average dye lot.
By reinventing color at the fiber level, CHROMUCH sets a new standard in eco-conscious solution dye fabric that helps to conserve natural resources.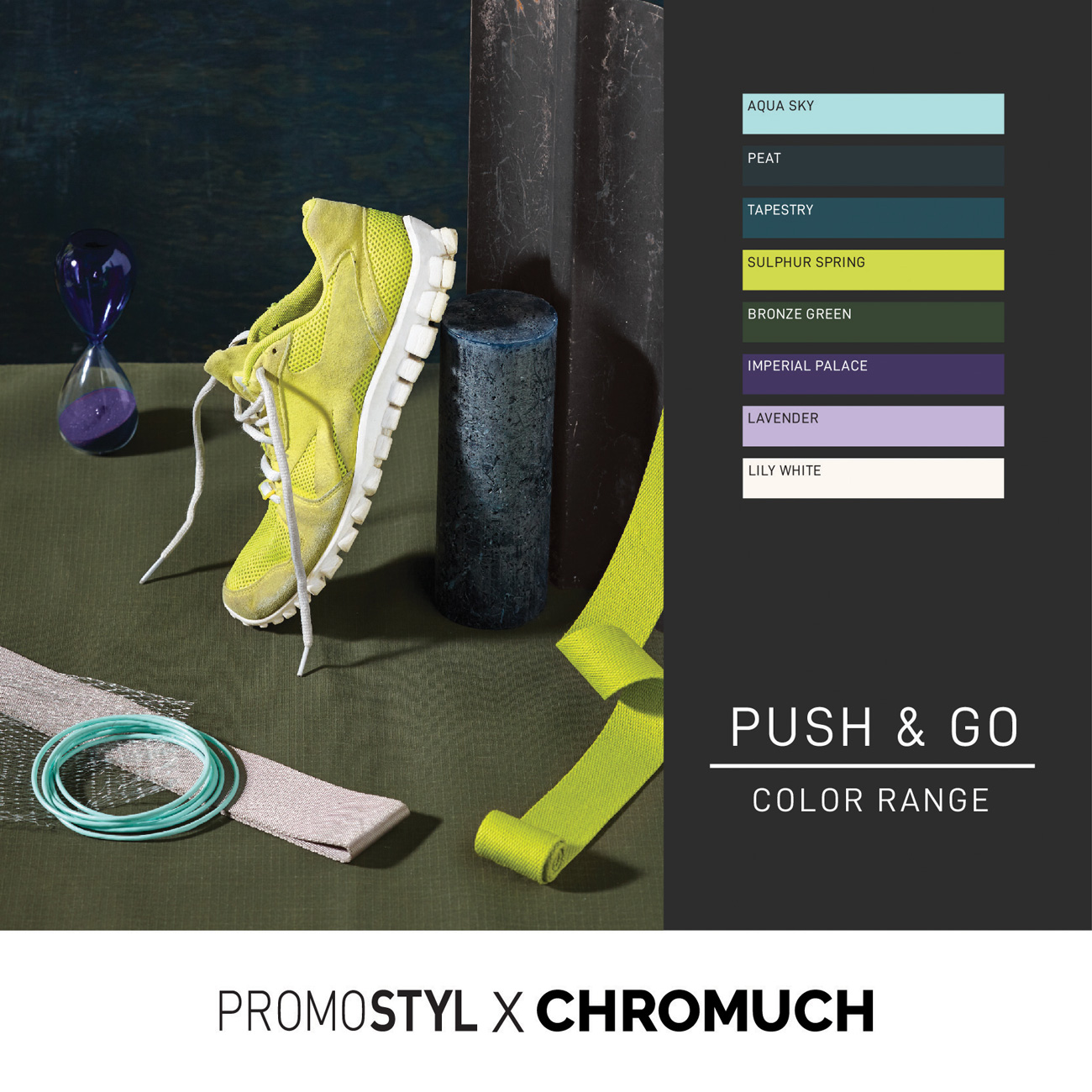 "This is the first-time a solution dye fiber manufacturer offers in stock colors selected by a color consulting company."
‍CHROMUCH Now: Tailor Made For Designers
These days, more and more brands are looking to design with earth-friendly fibers that provide performance benefits. While solution dye has been considered a good option, historically designers found it difficult to surmount factors associated with the process, specifically higher MOQs (often 30,000 yards/color), long lead-times, and price.  
Chromuch has introduced a new program that puts developer needs first aiming to make solution-dye fiber adoption more attainable than ever before. CHROMUCH Now removes conventional barriers to solution dye by offering seasonal and trend-right colors with competitively priced fabrics that are always in stock with low minimum order quantity.
"In the past, solution dyed producers didn't offer colors in stock due to the nature of the material," Shih states. "Even if they did, the color selection was limited. This is the first-time a solution dye fiber manufacturer offers in stock colors selected by a color consulting company."
CHROMUCH, in partnership with Paris-based PromoSTYL, has introduced an exceptional 2021 Color Guide. The color selection consists of five collections bursting with directional shades for the upcoming 2021 season. Each range is supported by color harmonies to aid designer decision-making. The curated color guide offers additional information on key colors for women, men and core palette.
With the CHROMUCH Now program, a designer no longer needs to compromise their creative vision or their concern for the planet to achieve textile excellence.
‍